We're living in a Tudor mad world which is great news for us Tudor history fans and those of us who enjoy an historical novel or biography.
You can see a full range of Tudor and Anne Books atof our special "The Anne Boleyn Files"Amazon US and Amazon UK stores, but here are some of my top picks:-
Non-Fiction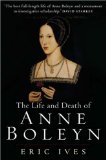 Eric Ives' biography, "The Life and Death of Anne Boleyn", is in my opinion the definitive guide to the life and times of this iconic Queen. It gives an account of Anne Boleyn from her background, through her courtship with Henry and her life as Queen, to her trial, judgement and execution.

My copy is always at hand and I like it because it gives so much detail and Ives cites all of his sources. It has well over 400 pages of information.
In "The Rise and Fall of Anne Boleyn", American historian and Professor of History at Arizona University, Retha Warnicke, gives what she calls "an analysis of the crucial phases of her [Anne Boleyn] life and more specifically of her role in the politics of her day, with particular emphasis on the rules and conventions of the society in which she played her part".

This is a great book written by someone with a real knowledge and understanding of the Tudor period.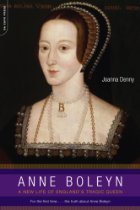 "Anne Boleyn: A New Life of England's Tragic Queen" by Joanna Denny is an excellent biography of Anne Boleyn which attempts to paint a true picture of this much maligned woman. According to Denny "No English Queen has made more impact on the history of the nation than Anne Boleyn, and few have been so persistently maligned".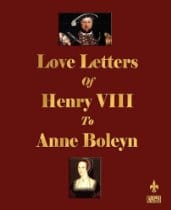 I love this book, the "Love Letters of Henry VIII to Anne Boleyn", because it contains seventeen love letters that Henry VIII wrote to Anne Boleyn plus a letter that Anne wrote to Wolsey with a postscript by Henry.

The letters really do give you an insight into Henry's feelings for Anne Boleyn and the passion that drove him to break with Rome so that he could marry Anne.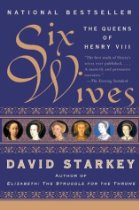 Dr David Starkey is a Tudor historian and an expert on Henry VIII and in this book he gives accounts of each of the six Queens of Henry VIII – Catherine of Aragon, Anne Boleyn, Jane Seymour, Anne of Cleves, Catherine Howard and Catherine Parr.

Starkey argues that Henry VIII was not the serial philanderer that many think he was, but simply a man in search of love and a male heir.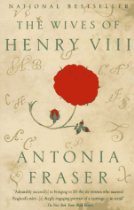 "The Wives of Henry VIII" by historian, Antonia Fraser, was a New York Times bestseller for over six weeks and is said to be one of the best biographies, if not the best, of Henry VIII's six wives.

Fraser meticulously researched the period and historical characters and includes 32 pages of illustrations and 16 color plates in the book. It is a comprehensive book for anyone who wants to learn more about the six characters who rose to be Queens of England.
Historian Kelly Hart gives a detailed account of all the women who were part of Henry VIII's life, not just his six wives. In this book we learn more about Lady Anne Stafford, Bessie Blount, Mary Boleyn, "the handsome young lady" of 1534, Mary Shelton, Étienette de la Baum, Elizabeth Amadas and many more. Hart also takes a look at Henry VIII's illegitimate children and gives a fascinating insight into his life with his six wives, including his passionate love for Anne Boleyn, his heartbreak over Catherine Howard and his deep friendship with Anne of Cleves. A brilliant read!
Fiction
Anne Boleyn's story, from her meteoric rise to fame to her dramatic fall from grace, is enough to inspire anyone and it has inspired many great writers. Here are some Anne Boleyn or Tudor novels that I have enjoyed or that others have recommended to me:-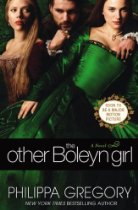 Many Anne Boleyn fans have told me that their fascination with Anne Boleyn started after reading this novel by Philippa Gregory.

Philippa Gregory's "The Other Boleyn Girl" tells the story of the Boleyn sister, Mary and Anne, and their relationships with Henry VIII. The girls are used as pawns by their father, Thomas Boleyn, and their uncle, the Duke of Northumberland, to raise the profile and the wealth of the Boleyn family and faction – but at what cost? We all know how Anne's story ends, but it is great to get inside the character of Mary Boleyn (Mary Carey), who was Henry's mistress and might well have been mother to two of his children.

Although it is not historically accurate, it is a compelling novel that you will not be able to put down.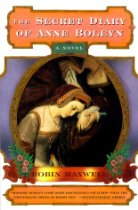 This novel tells both the story of Elizabeth I, Queen of England and daughter of Anne Boleyn and Henry VIII, and also of Anne Boleyn.

In the novel, Elizabeth receives a secret diary kept by Anne Boleyn and learns the true story of her mother's rise and fall. It is a story which changes Elizabeth, when she reads her mother's words "Never relinquish control to any man", and which shapes her destiny. It's a great read.
"Murder Most Royal: The Story of Anne Boleyn and Catherine Howard" by Jean Plaidy is a fantastic blend of Tudor history and drama. Plaidy recounts the story of one powerful king and two doomed cousins, Anne Boleyn and Catherine Howard, who both rise to be Queens of England and then are both beheaded.

I haven't read it yet, but it keeps being recommended to me! People say that Plaidy brings both the characters to life, humanizing them, and the events to life. Another page turner which is famous the world over.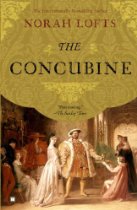 "The Concubine" by the historical novelist, Norah Lofts, tells the story of Henry VIII's love and passion for Anne Boleyn – a passion that has him defying advisers and friends, and moving heaven and earth to make her his own.

Written in 1963, it is still a popular historical novel today.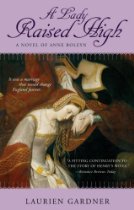 From Laurien Gardner, the author of "The Spanish Bride" (about Catherine of Aragon), this is Anne Boleyn's story told by country girl, Frances Pearce, who enters Anne Boleyn's circle and becomes a friend to the Queen.

As Anne's story unfolds, Frances learns just how quickly the tide can turn against you.

A great novel if you need a break from the Philippa Gregory ones!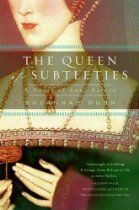 "The Queen of Subtleties" by Suzannah Dunn tells the story of Anne Boleyn from two different points of view – Anne herself and Lucy Cornwallis, the King's confectioner.

As well as being responsible for creating the confectionary masterpieces that mark the events that lead to Anne's rise in favour, Lucy also has something else in common with Anne Boleyn – Mark Smeaton.

Described by "Publisher's Weekly" as a " delicious romp through the romance, politics and drama of 16th-century England", this novel has mixed reviews on Amazon – best to make your own mind up.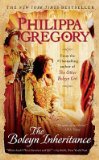 "The Boleyn Inheritance" by Philippa Gregory moves on from where "The Other Boleyn Girl" left off (plus a bit!). The story is told by three very different characters – Anne of Cleves, who is leaving her home in Germany to become Henry VIII's fourth wife, Catherine Howard, a teenager who is lady- in-waiting to Anne but who catches the King's interest, and Lady Rochford (Jane Boleyn/Parker), wife of the late George Boleyn and the one said to have accused Anne and George of incest.

Although I do get annoyed with historical inaccuracies (I have to keep saying "It's fiction!" to myself), I loved this book and was instantly hooked.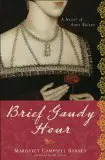 "Brief Gaudy Hour" by Margaret Campbell Barnes has been recommended to me by so many people and has got great reviews on Amazon – it's on my list of "must-reads"!

Through meticulous research into Anne Boleyn and this period of history, Margaret Campbell Barnes has been able to bring Anne Boleyn's character to life and draw the reader in to life at the Tudor Court. Many people have told me that Anne is portrayed as "likeable" and that you spend the novel hoping for a different ending!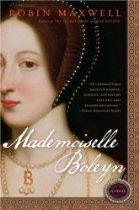 In "Mademoiselle Boleyn", Robin Maxwell tells the story of Anne Boleyn BEFORE she met Henry VIII and thsi novel actually ends with her meeting him. We learn of Anne's childhood in France, her life at the French Court, her relationship with her father, her dismay at what happens to her sister, Mary, and her love for Henry Percy.

Although it is a fictional account of Anne's early life, it gives us some insight of what made Anne who she was.
The above links are all Amazon US links, but all the books are also available at Amazon UK – click here to go to our special Amazon Anne Boleyn UK page.
Alison Weir Anne Boleyn Book Launch
According to Alison Weir's website, Alison Weir will be launching her latest Anne Boleyn book, "The Lady in the Tower: The Fall of Anne Boleyn" at the Tower of London on 9th September 2009.
The evening is going to be a joint event with Tracy Borman, author of "Elizabeth's Women", which is also being launched that night, and will include a special tour of the Tower, a joint presentation by Alison and Tracey, entitled "The Whore and the Virgin", drinks and canapes, and a book signing session.
Tickets are not yet available, but keep an eye on Alison Weir's website – the News Page – for details.