Posted By Claire on January 11, 2011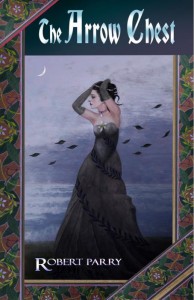 Being under the weather with a bad cough at the end of last week gave me the perfect excuse to curl up on the sofa with my Kindle and blanket to enjoy this latest offering from Robert Parry, author of one of my favourite books "Virgin and the Crab".
In the past I have described "Virgin and the Crab" as "magical" and after reading the last page of "The Arrow Chest" I sighed and proclaimed to anybody who was listening (my dogs!) that it was "beautiful". It's hard to put into words what I mean by "beautiful", but I would say that "The Arrow Chest" was a joy to read, that it gripped me, that I was satisfied with its conclusion and that I felt disappointed when the experience of reading it was over, I wanted more! It was definitely one of those books when you use every excuse you can think of to go off by yourself and read it, no matter how much work you have to do or what family commitments you have – a book you just can't put down and a book you feel the need to talk about to your nearest and dearest. I think my husband may have got rather bored with me saying "Oh Tim, I love this bit, listen to this…" but I felt compelled to share my thoughts and feelings on Parry's story.
What It's About
The blurb says:-
"London, 1876. The painter Amos Roselli is in love with his life-long friend and model, the beautiful Daphne – and she with him – until one day she is discovered by another man, a powerful and wealthy industrialist. What will happen when Daphne realizes she has sacrificed her happiness to a loveless marriage? What will happen when the artist realizes he has lost his most cherished source of inspiration? And how will they negotiate the ever-increasing frequency of strange and bizarre events that seem to be driving them inexorably towards self-destruction. Here, amid the extravagant Neo-Gothic culture of Victorian England, the iconic poem 'The Lady of Shalott' blends with mysterious and ghostly glimpses of Tudor history. Romantic, atmospheric and deeply dark."
It's tricky to tell you more about it without ruining the story, but the novel opens in 1876 with artist Amos Roselli visiting the Tower of London Chapel of St Peter ad Vincula to sketch the bones of one of the bodies found during the restoration work. It is there that he learns the tragic story of Queen Anne Boleyn and what happens to him that day sparks off a chain of events which mix his present life with the lives of Anne Boleyn, Henry VIII and Thomas Wyatt in 16th century England, and lead to him leaving London for the Isle of Wight. If I say that Roselli's muse and sweetheart, Daphne, is trapped in a loveless marriage to a man who has become a tyrant and is obsessed with a son and heir, I'm sure you can see the parallels between this story set in Victorian England and one set in Tudor England, one that we know all too well.
Now, reading what I've just written back to myself, it all sounds rather cheesy and twee, but it's far from it. It is haunting, captivating and beautifully written. The reader is grabbed by the story and the characters, and is desperate to know whether the story will be a true parallel. Robert Parry has also got a real talent for bringing the scenery to life and you can almost hear the sea and smell the salty air as he describes scenes on the beaches and cliffs of the Isle of Wight. I love authors who write for the senses, who bring characters and scenes to life so vibrantly, and Parry is one of those authors.
So, in short this book is beautiful and magical. It sweeps you off your feet and takes you travelling in time to both Victorian England to Tudor England, from the Tower of London to The Needles of the Isle of Wight. It is a joy to read and is the perfect antidote to the miserable winter weather and the daily grind. I heartily recommend it and am now going to read it again!
Availability and Details
Title: THE ARROW CHEST
Author: Robert Parry
Genre: Historical Fiction, Historical literary, Victorian Gothic
ISBN-10: 1452801142
ISBN-13: 978-1452801148
342 pages
Publication date 4th January 2011
Available in Paperback on Amazon.com for $11.95 – click here – and also on Kindle. For UK customers, it is also available on the Amazon UK Kindle store – click here for details. Amazon.com ship worldwide.
Read my review of Robert Parry's "Virgin and the Crab" – click here.
Trailer
Here is the video trailer for "The Arrow Chest":-