Posted By Claire on September 11, 2013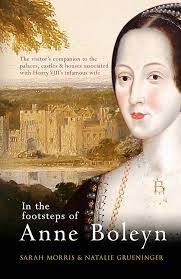 In the Footsteps of Anne Boleyn is a new non-fiction book written by Natalie Grueninger, who many of you will know from her blog "On the Tudor Trail", and Sarah Morris, author of the novel "Le Temps Viendra". I have known Natalie and Sarah for a few years now and have been following their progress with this book project since the very beginning, so I was thrilled to be asked to review the finished book.
In the Footsteps of Anne Boleyn is described as "the visitor's companion to the palaces, castles and houses associated with Henry VIII's infamous wife" and it really is just that. Unlike a normal guide book, it does not sort the places into geographical areas, although there are useful maps at the beginning to show the areas covered, it examines the places in relation to the chronology of Anne Boleyn's life. Sarah and Natalie give a detailed guide to each place, covering things like:
The building's history
It's link to Anne Boleyn – When did she visit? What's the evidence?
What Tudor artefacts the place has
The must-see parts of it
Nearby attractions – eg. a church with the resting places of key Tudor people
Visitor information – Where to find it etc.
The book is divided into five main parts: